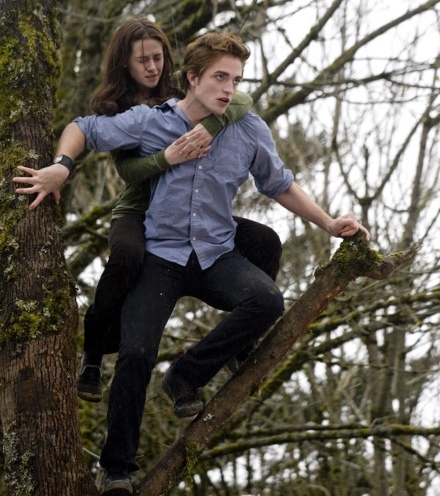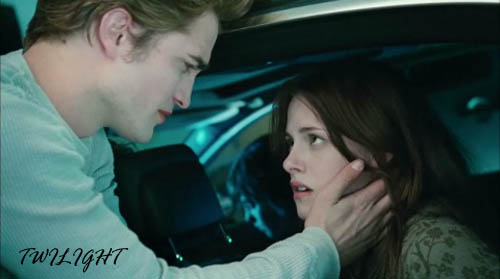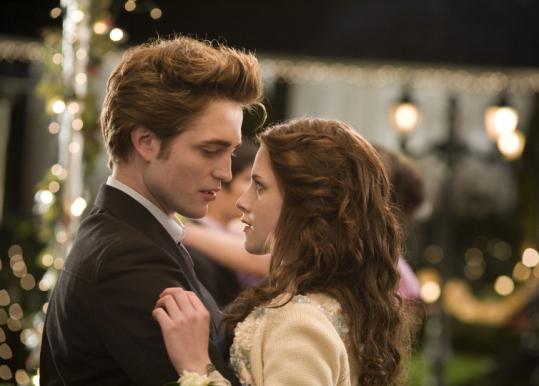 Esta es una peli biennnn a lo Hollywood ...

porque desde hacía mucho tiempo no veía semejante parafernalia mediática para promocionar algo ..

. tenemos desde el libro pasando por la peli, un maratónico desembarco ya no se si de la serie o de la segunda parte porque llueven las noticias, hasta rumores de un verdadero romance entre los protagonistas,

todo condimentado con muchas fotos un toque goticón.
El guión es simple .. comienza con

una chica de clase media y padres divorciados cuya madre se casa y como ella no tiene ganas de vivir con esta y su padrastro en una nueva ciudad deja su "ex" hogar en una región árida y extra calurosa para irse a vivir con su padre, un policía bastante frío pero de buen corazón a un pueblo entre bosques y montañas ..

léase .. en el medio de la nada ...
Una vez allí le toca la clásica adaptación de su secundaria y en ésta conocerá a una mas que particular familia que son los hijos adoptivos

(Marche un padre Grassi )

de uno de los médicos del pueblo

( que está mas bueno que un helado de La Frutta en el miserable break de15 minutos de AT & T !!! )

y cuya prole no se junta con la chusma y siempre se mantienen apartados de los demás -...
Pero este grupito de chicos ariscos, además de parecer modelos publicitarios todo el tiempo esconden un pequeño secreto y

la recién llegada se percatará de él cuando su vida esté en riesgo y uno de ellos la salve permanentemente,

de más está decir que no quemo ningún guión por mencionar que se viene un romance pero lo peculiar de éste es que ..

. rememorando esas viejas escenas de histeriqueo constante entre Buffy y Angel en " Buffy the vampire slayer " acá hay de eso de sobra ..

.

hay carajo como me acuerdo cuando Buffy se volvió softcore y Spike le daba en todos los capítulos XDDDD,

esteee obvien ese comentario porfi ...
El caso es que como si faltaran problemas,

ya que su familia política intenta digerirla lo mejor posible .. y ella deberá intentar que NO la digieran en serio

, su padre se toma la frase de la escopeta al pie de la letra, su amigo indio ve a su novio con ojitos de lechuza todo el tiempo, y está mas caliente con el paliducho que CRISS con Cleto pero por diferentes motivos ..

( Bueno .. creo ..)

una serie de misteriosos asesinatos pondrán al pueblo en vilo y sus autores por accidente y rebote testearán la relación de la chica con su nueva familia y su enamorado.
Ya que lo que se nos plantea primordialmente es :
Que harías por amor?
Enfrentarías a tu familia ..??

(Jani a vos ni te pregunto ....)
Si la familia de tu novio te ve como sapo de otro pozo .. confiarías en ellos sabiendo que pueden traicionarte???
( Ni a palos !!!! Una vez sapo ... SIEMPRE SAPO )
Arriesgarías tu vida por tratar de ser feliz??
( ................ no es mejor ser feliz un rato que tener una larga vida de mierda ??? )
La peli en sí entretiene, pero

GUARDA ..... ES PARA TEENS ..

.

o sea yo tengo debilidad por los de los colmillos,

pero NO COMO VIDRIO ...

tiene tanto suspenso como una vieja tapita de PEPSI con el "Seguí participando"

la línea argumental es tan simple y plana como un electroencefalograma de Rocío Marengo,

las actuaciones son comunachas ( De hecho al personaje de Bella, la chica, más de una vez dan ganas de cruzarle unos buenos cachetazos por lo simple que es ),

el final es mas que cantado,

y si bien la representacion de todos los " oscuros "está bien .. tampoco exageremos ..

. cualquiera con ponerse serio gesticulación y maquillaje mediante lo logra calcado
.
Pero si la ven la van a disfrutar casi seguro porque en el fondo a todos nos atraen las relaciones tormentosas y los chicos malos ..

. lo importante es tratar de ser feliz ... me cago en dios por lo que me tocó a mí!!!!
MI CALIFICACIÓN 8 estrellitas y soy generosa * * * * * * * *
(Porque aportar no aporta nada, solo entretiene y te deja muuuucho merchandising ...
y una sorpresita )

Si te gustó esta mirate :
ONDA TEENS:
" BUFFY THE VAMPIRE SLAYER "
ONDA ADULTA:
DRACULA
VAMPIRE S DIARY (La crítica esta en el blog de terror de Clarín )
THE HUNGER (El ansia con David Bowie, Catherine Deneuve y SusanSarandon )