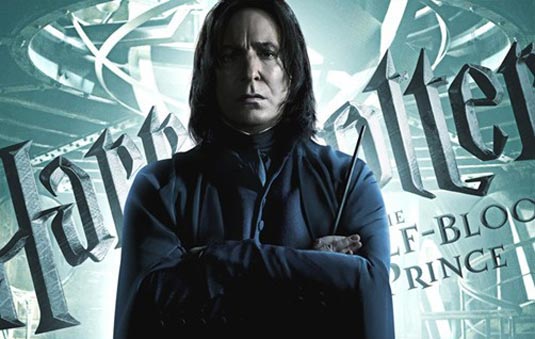 Uy uy uy ... de lo que safé durante años no puedo escapar ahora ... criticar la saga Potter o mejor dicho la entrega número 6
(Léase Rowling la sigue robando con retroexcavadora )
de uno de los libros más leídos por críos, adolescentes y por que no adultos ...
y acá viene mi confesión BURRA TOTAL ..
NUNCA LEI O MIRÉ UNA PELI DE HARRY POTTER ....
Okkkk ya lo admití felices????
Lo cierto es que no me gusta mirar cosas comerciales y

cuando todos corren al cine a ver algo con desesperación yo en general me bajo ONLINE una peli que no conoce ni el loro

( Y después,

o es una joya oculta

o la hago pelota en mi blog de

"PELIS QUE JAMASSS DEBERÍAS VER"

) porque sinceramente no me gusta "seguir a la manada"
Lo cierto es que esta vez no pude darme el lujo de ignorarla y no me quedó otra que hace unos 10 días ANTES de que se estrenara por estas pampas verla .... fue raro porque como no tenía de que agarrarme previamente medio como que adiviné algunas cosas ... así que ni bien terminé de verla y de tomar apuntes

bajé todas las Potter anteriores y me mandé un pequeño maratón para martirio de mi colita argentina.
Lo que primero me llamó la atención fue que el viejito de las primeras era otro ... o sea Dumbledor, pero no por decisión de la productora o de los del casting ni por peleas de cachet, sino porque

Richard Harris, una gloria de la actuación había estirado la pata ...

y ahí caí en cuenta de algo ... habían llamado a

gente RE GROSSA

... porque uno entiende que cuando ya la peli es un éxito se la jueguen contratando a grandes nombres, pero acá lo hicieron de entrada y otra cosa notoria fue ..

NO CAMBIARON A LOS ACTORES ....

lo cual es a la vez bueno y malo ..
Bueno

: porque se sigue al pie de la letra con la misma gente y se superó el gran miedo de los estudios de

queee pasaría si ese crío angelical al crecer se transforma en un bichito ..

van a a poder seguir explotándolo .. esteee digo "trabajando con él" o como ocurrió en la vieja

"DINASTIA"

después de la primera temporada en donde no se pusieron de acuerdo con quien era el hijo de Carrington le "hicieron volar la cara a su personaje en un accidente" y tras la cirugía reconstructiva era OTRA PERSONA???

( Léase pusieron a OTRO ACTOR ...)

es más aún recuerdo a varios críticos de cine " respetables" remarcando "lo cambiada" ( feúcha) que se había puesto la nena de

"MI PRIMER BESO"

...
Malo

: porque en general se contrata a críos actores un poco más grandes de la edad de su papel ... y

eso al principio no se nota, pero DESPUES SI ...

para muestra basta ver a los "chicos" de ésta peli ... no voy a dar nombres pero mande una promo de Schwaneck para un rubio!!!
Acerca de ésta peli en particular ... bueno lo obvio es que sigue la trama de las otras y esta vez con un Harry más crecidito que tiene entre sus responsabilidades volver a Hogwarts

( Como todosss los años)

pero ésta vez bajo el miedo de todos los mayores que temen que algo le pase a sus pollos y arrastrando consigo a pedido de Dumbledor a un extraño profesor en cuyo pasado estaría el secreto para eliminar a Voldemort de una putarra vez ... la pregunta es ... va a poder sacarle la verdad ???
Y cómo su cercanía con éste amo de las pociones lo pueden guiar a quien menos se lo imagina???
Ademas como si le faltaran problemas su viejo archi "amigo"

el oxigenado esta como loca!!!

Y mas rayado que una cebra a causa de cómo Harry dejo muyy bien parada a su familia y a él mismo, intentará por todos los medios hacerlo pelota y congraciarse con cierto personaje de poder y oscuridad ...

lo malo es que para ello contará con ayuda extra

incluyendo la de una chapa mallll que dió varios dolores de cabeza en el pasado y sorpresivamente formarán una

inusitada alianza con alguien muy particular ...
Para seguir acorde a la actualidad el pobre conocerá en carne propia lo que es estar en el

foco de los medios

y cómo desafortunadamente mucha gente sólo se deja llevar por lo que la prensa dice (

Cualquier similitud con la mierdxx de prensa argenta es PURA coincidencia ...

)
Pero como sobre llovido mojado el cuarto enemigo de Harry serán sus propias hormonas, aunque

en realidad varios de los protagonistas estén necesitados de una ducha fría

, ya que

o a Rowling le dieron vacaciones y la suplantó Cris Morena

en algunos pasaje de la obra o esa búsqueda casi obligada de parejas para los caracteres se sintió más que obvia ... casi diría algo

"forzada"
Como sea en ésta entrega para la gran pantalla

y para los piratas del MIRELO ONLINE como mamitaaa

(

Quien les habla ... noooo si voy a pagar una entrada al cine ... MINGA!!!!

) nos encontramos con un trabajo más oscuro ... no se si llamarlo "maduro" porque si bien hay una escena dónde el mago más jovato le dice a Harry "Tenés que afeitarte Harry"

sinceramente sentí más calidad actoral en otras pelis de la saga

... no se ... como que muchaaa oscuridad, no sólo en la iluminación,

amparada por un libreto que fue muy llevado de las mechas

, al punto tal que lo percibí como cuando uno tiene fecha de entrega de una monografía y en la última parte con tal de terminar hace todo a las corridas

sin

poner el mismo empeño que se realizó al principio ...
Sí es de destacar la presencia de actores de peso como

la SEÑORA Helena Bonham Carter

quien una vez más le dió a su personaje un histrionismo especial

( Léase loca de atar )

, los personajes siguieron con sus acostumbradas características

( Un Ron glotonazo, una Luna ida pero de buen corazón, unos gemelos bien ladris )

todo adherezado con muchos efectos especiales y obviamenteee dando pié a
Harry Potter 7 o sea "Harry Potter and the Deadly Hallows" parte 1 y 2 a estrenar en el 2010 y en el 2011 ...

o qué ??? Creyeron que Cris Rowling se la iba a perder???
PONIENDO ESTABA LA GANSA!!!! Acá hay sacudida de varita para rato ....
En resumen:
La vería de nuevo?

Sip ...
Pagaría por verla en el cine ?

Puede ser
Compraría el DVD ?

Sip para coleccionar la saga ...
MI CALIFICACIÓN: 9 panteras
(

Y estoy regalando media !!!

)
Acá va el link para verla en INGLÉS