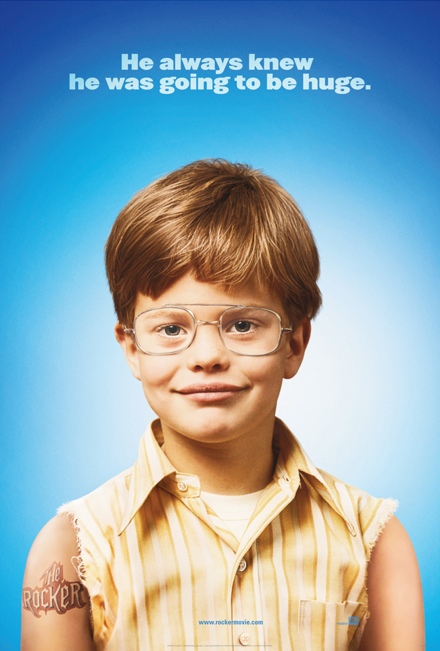 "THE ROCKER"

es una comedia que honestamente me sorprendió, últimamente VIVOOO diciendo que no hay nada realmente gracioso para ver y esta peli es ( Al menos al principio ) la excepción.
La trama nos muestra de entrada a una típica banda de fines de los '80s the glam rock ..

o sea algo supuestamente de rock/metal pero con chicos de pelo muy largo, mucho hairspray, ropajes como si los hubiera vomitado un arco iris y por sobre todo .. MAQUILLAJE .. muchooo maquillaje. El grupo se llama Vesuvious y tras un muy buen concierto su manager les anuncia 2 noticias ..

la buena ...

van a firmar con una compañía discográfica grossa y gracias a ello ser teloneros de Bon Jovi ..

la mala ..

tienen que rajar a su baterista porque el dueño de esa compañía va a poner en la percusión a SU sobrino ...
Al ser puestos en semejante encrucijada el grupo decide hacer la gran Metállica y rajarse dejando atrás a un desesperado batero que a los gritos jura vengarse y demostrarles que el solito puede llegar al estrellato ...

pero los años pasan y su vida se centra en su odiado trabajo de telemarketer y ver que sus ex compañeros si han logrado ese éxito que el tanto anhelaba ..

aunque no todo está perdido y por accidente

( LOS ACCIDENTES NOO OCURREN segun la tortuga de KUNG FU PANDA )

su propio sobrino le pide a modo de favor, ya que debe vivir en su casa... o mejor dicho en su sótano, que se convierta enel baterista de su bandita de garage ...
Lo que al principio pareciera ser sólo darle una mano al chico se convertirá en mucho mas para su vida personal cuando por la masificación del YOUTUBE lo lleve al estrellato de inmediato y de pronto la vida intente darle la oportunidad que le fue quitada en el pasado ...

pero como no todas son rosas bien pronto hallará en su camino viejos miedos del pasado

y lo peor .. viejas traiciones ...
La peli en si entretiene y es una fiesta de recuerdos para quienes disfrutamos O SUFRIMOS a las bandas del glam rock definesde los '80s ... con un dejo de nostalgia se evoca a:
Dave Mustaine y su ya archifamosa despedida ...

mejor dicho ABANDONO por parte de los integrantes de Metallica quienes lo dejaron durmiendo borracho en un hotel mientras ellos escapaban ...
El look de los Poison, un toque de Gene Simmons y unas calzas dignas de David Lee Roth
Pero no todo son meros recuerdos emotivos para que la peli le caiga simpática al espectador, tambien deja en claro temas fuertes como

que estarías dispuesto a sacrificar .. o A QUIEN para crecer en tu carrera y por que pareciera ser que si sos decente siempre alguien va a querer pisarte la cabeza ??

(Si Jani y la putxx que te parió estoy pensando en VOS )...

o que acaso en la sociedad actual el ser decente ya no sirve de mucho¿??
Como sea las actuaciones estuvieron llevadas muy decentemente y van a ver a caras conocidas como la ya entrada en años ex adolescente boba de

"Married with children" y Samantha who "

aunque quien se lleva todos los laureles es obviamente el protagonista, si bien el final es muyyyy rosa, se destaca una buena música y se dice que el actor principal debió aprender a tocar la batería para esta peli
MI CALIFICACION: 8 estrellitas * * * * * * * *
( Si quieren ver lo que era antiguamente un celular ...
presten atencion a las primeras escenas!!!!!)