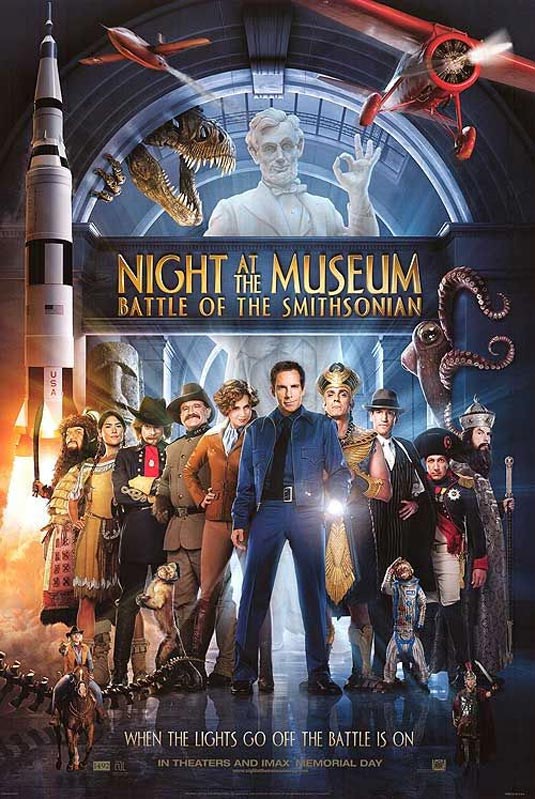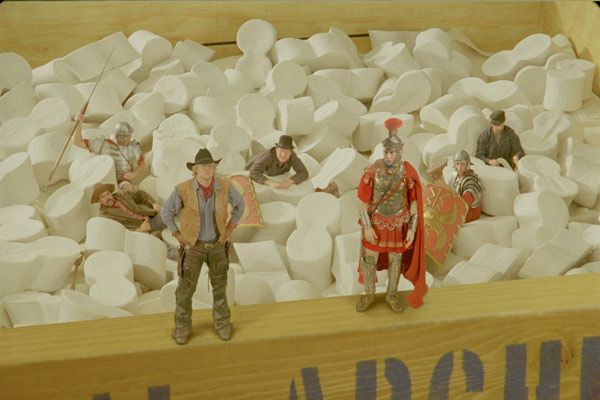 "A NIGHT AT THE MUSEUM 2: BATTLE OF THE SMITHSONIAN"

( Una noche en el museo: la batalla del Smithsoniano ) fué para mi sorpresa una peli más que aceptable, ya que en general las segundas partes suelen ser basura,

pero no se crean que me ablandé porque en realidad voy a repartir un par de palos y hasta algunos halagos!!

Shegua ahora y SIEMPRE!!!
La trama gira en torno al ya conocido guardián nocturno quien con un golpe de suerte desde la primera peli consiguió mediante

vender productos basura onda " llame ya "

una floreciente empresa gracias a la cual dejó su trabajo e hizo una pequeña fortuna, pero como todo empresario

vive presa de su propia jaula

y un llamado de urgencia de sus otrora amigos los habitantes del museo lo pondrá ante el dilema de mirar para otro lado y seguir con su negocio o intentar ayudarlos, ya que como todo lo viejo en esta vida es desechable las autoridades del reciento piensan retirarlos para poner algo mas " moderno" y como si faltaran problemas los van a enviar al depósito del Smithsoniano como algo totalmente " obsoleto " y como para completarla, al realizar se dicho traslado la tabla que los revive viajara con ellos con el aliciente que gracias a ella

TODOS los habitantes del museo más grande del mundo podrán volver a la vida

y lo malo ... no todos los que despierten serán dignos de admiración.
La peli entretiene y si bien es para críos, si son grandes no se van a aburrir

o sea no esperen " LA " comedia del año pero es más que digerible, ya que los efectos especiales están perfectos

y se desarrollaron interacciones muy buenas

como por ejemplo la de la sala de cuadros en donde ese Lichtenstein me mató XDDD, se incorporaron personajes que si bien eran secundarios o de relleno encajaron a la perfección y en lo que se refiere a

los principales están bien llevados aunque con algo de histrionismo " extra "

pero caracteres como el comandante trolazo y cobarde, ese faraón malo pero torpe interpretado por el genial

Hank Azaria

, el ya visto y eterno compañero de pelis de

Stiller de Owen Wilson

como el cowboy terco y peleador, y obviamente el cameo de

Robin Williams

como el general hicieron muy llevadera la trama.
Pero hay algo para destacar, no se si es porque es una de mis actrices favoritas pero

siento que Amy Adams se tragó la cinta

hasta llegando a opacar a Ben Stiller

y si bien adoro a

la Cugino

( Quien actuó en la 1 ) , creo que a

Adams

le sentó mejor su papel, ya que más que partenaire del protagonista se lució como heroína de acción. Eso sí era necesario insinuarle el traste en varias tomas almejor estilo

"TINKERBELL"

?? Y si bien el final es más que cantado es muy probable que "con suerte" esté en la secuela ...

que??? Pensaron que se la iban a perder ???? XDDD
MI CALIFICACION: 8 1/2 estrellitas ******** 1/2
(

En su género aventuras para críos está muy buena

)
Y acá esta el link para verla

ONLINE

en
Inglés
SUBTITULADA