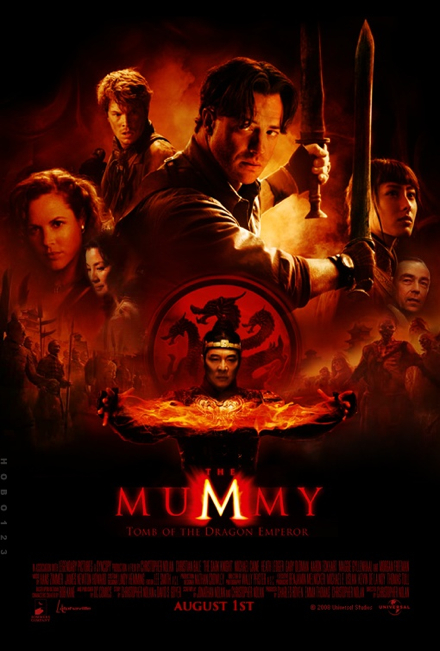 Tengo que admitir que venia esperando esta peli hace rato .. personalmente el 2008 vino con una avalancha de novedades, remaques y secuelas asi que me teniendo en cuenta la anterior peli the

Fraser

" JOURNEY TO THE CENTER OF THE EARTH "

venia con algo de miedo ...

es un actor que respeto mucho y con esa peli me decepciono bastante ...
pero teniendo a Jet Li y con una superproduccion detras tenia que levantar ese fiasco ...
No voy a decir " ERRORRRR"

pero me veo obligada a ser sincera .. no me gusto de la forma que pense que lo haria ...
de entrada tenemos un raconto de como un rey ambicioso se transformo en emperador y con metodos sanginarios destruia a sus enemigos o los esclavizaba para construir una muralla ..
( China... muralla .. no se si les suena ...)
y si cometian la torpeza de enfermarse o palmar ahi mismo al ladito de la gigantesca pared iban a quedar sus huesos como regalo a la PachaMama del Sol naciente ..
.uy .. ahora que lo pienso si esta ambientada en China porque utilize un termino japones .. sorryyyy.
Pero como al mejor estilo propaganda vieja de Mi pequeño Pony " CUANDO MAS TENES MAS QUERES "
( slogan idiota que aun estoy intentando descifrar .. o acaso inculcaba un espiritu consumista??)
este emperador queria mucho .. muchiiisimo mas .. LA VIDA ETERNA
y como no tenia un vampiro a mano que le besuqueara el cuello, el general de su ejercito se las ingenio para conseguir la ayuda de una poderosisima bruja

,
lo unico malo.. se enamoro de ella .. no no el emperador .. el general ..
lo que si se puso feo fue cuando el emperador se avivo y como ya le habia echado el ojo pero no desde su corazon sino guiado por otra parte de su anatomia y decide vengarse. BTW se entiende que el emperador estaba caenchi con la bruja y no con el general no??? Digo porque despues de BROKEBACK Mountain puedo esperar cualquier cosa de un libreto.
Lo cierto es que

la bruja ni lerda ni perezosa le metio una maldicion de aquellas

por arruinarle su felicidad y lo condeno a el y a su ejercito a yacer transformados en piedra .. rezando que ningun nabo haga el conjuro para sacarlos de su eterno letargo ...
a todo esto adivinen que pasa ???
Siii my darlings el nabo llego ... no nooo Brendan Fraser
( quien de nuevooo interpreta a ese explorador medio tonto que se la pasa gritando y desde que hizo George of the Jungle no se saca mas el personaje ...)
sino que para variar y ser superrrr originales ahora HAY UN EXPLORADOR PICHON ... su bebe ..
(
Si estos son originales a mi me contratan los de TN .
.
porque ya es el tercer explorador Junior en lo que van de 3 meses

..INDIANA JONES, JOURNEY TO THE CENTER OF THE EARTH

.. y suerte que no estan los herederos de

HELLBOY

porque sino hay mas tambien )
Y aca ya la pifiearon mallll ya que el " bebe" podria hacer de hermano de Brendan por su contextura tipo rugbier y en si por su edad ..
ya que SOLO TIENEN 13 AÑOS DE DIFERENCIA en la vida real ...
.
y ni que hablar de cuando miramos a la madre ... solo por curiosidad .
.
donde carajo esta

Rachel Wiesz

??????
Porque la voz de LA INTRO pareciera ser ella pero NO es ...la chica dejo bien en claro QUE NO VOLVIA ... se dijo que era por su bebe pero otros dicen que no queria quemar su carrera con ese final.
Todo bien con la pobre Maria Bello pero .. no es lo mismo .. no fue lo mismo y SE SINTIO ..

.
lo mejorcito es que vuelve el tio borracho y fiestero, y como buen tio estaba protegiendo al hijo de su hermana ...
asi que cuando sus padres llegan a China con la mision de entregar un talisman a las autoridades se desayunan con la noticia de que el bebe esta mas cerca de lo que creen y nooo piensa volver a la facu.
Pero como siempre el poder esta en el medio y a veces corrompe se llevaran una sorpresa ( OTRAAA vez a lo
Indiana Jones
) y como es de esperar
a pelear se ha dichoooo.
La peli en si entretiene pero no es lo mismo que las anteriores, las escenas de accion estan pero para quien esta acostumbrado a ver pelis orientales va a notar que " falto algo "
... esa " magnificencia " de los grandes grupos de guerreros peleando esta MUYYYY visto ... de hecho
ejercito ... ejercito que vuelve a la vida ... si no fuera shegua diria que ya se uso en la ultima de

Jackie Chan

y en HELLBOY 2 ...
y para ver una pelea digna y bien coreografiada les aconsejaria conseguir

THE EMPRESS AND THE WARRIORS

.. una joyita.
Acerca de las actuaciones .. ay chihuahua ... o
Fraser esta muy joven para ese hijo o deberian haber conseguido un actor mas pichon ... se metieron bastante en la conflictiva relacion padre - hijo pero no senti que la evolucionaran bien .. o sea .. para cuentitos de hadas miraba otra cosa.
De Maria Bello no puedo decir mucho, la conexion con Brendan " era otra" cuando teniamos a Rachel pero al menos demostro como agarrarsea patadas sin desarreglarse el cabello.
Del actor que hace del tio ( nunca me acuerdo su nombre .. ) OK como siempre pero ya no es tan gracioso.
Hubiera deseado ver mas accion de artes marciales de parte de Jet Li ( Pero supongo que debere conformarme con ver de nuevo

THE MYTH

)
, las actrices orientales estuvieron bien y me gusto el toque de que la bruja vistiera de blanco en la escena de la venganza ... entre tanta oscuridad ella era la que daba un poco de luz

. Lo mejorcito fueron los " gatos anabolizados " no puedo dar mucho detalle

y si bien el final estaba MAS QUE CANTADO fue algo aburrida la escena de la danza .. hubiera preferido un ritmo mas " movido" de la epoca y la mencion final con el tio fue un excelente recurso para THE MUMMY 4

.

.... y ademas porque el final asi como estaba era muy pero muyyyyyyy INSIPIDO
PD1: Rachel ... TE ENTIENDO!!!
PD2: Fraser cortala con pasartela gritando!!!!
MI CALIFICACION 7, 50 estrellita * * * * * * * 1/2
(

Estuvo " ok " pero no esperen nada mas

)