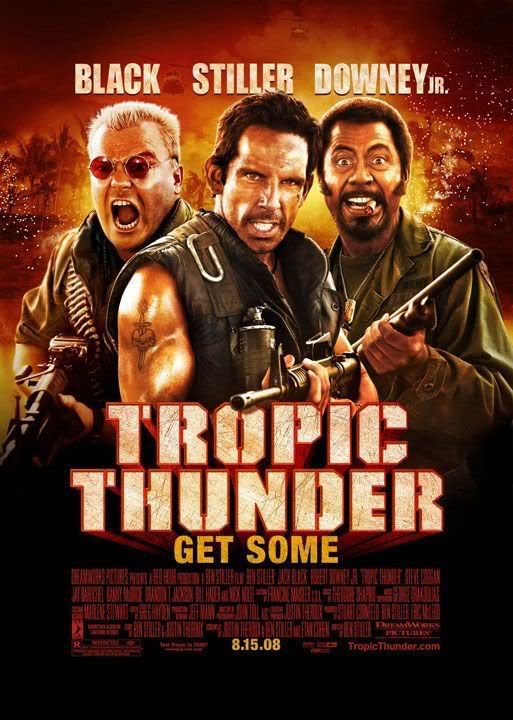 TROPIC THUNDER es una peli para mi gusto rara .. por no decir RARISIMA ....

porque tiene un elenco conformado por lo peorcito de Hollywood,

algunos nombres de peso

y algun que otro loco que se metio de colado.
O sea si yo pienso ( y conste que no suelo mirar los nombres pero aca llamaron mi atencion )

Nick Nolte, Robert Downey Jr, Matthew Mc coney y un cameo de Jon Voight tiene que ser algo no digo un peliculon ... pero al menos algo BIEN hecho...

pero si le agregamos a

Joe Black y Ben Stiller

la receta comienza a burbujear

y si le ponemos a un irreconocible Tom Cruise

a quien identifique cuando recorde su locura saltando cual canguro en el sillon de Ophra ( y NO estaba haciendo ningun personaje )

la receta directamente SE QUEMO

.
El argumento no es malo ...

y

con un claro homenaje a PLATOON ( lease robo )

se inicia con una escena bienn a lo NAM en donde un grupo de malos actores pero con aires de divas estan filmando

( y ARRUINANDO )

una pelicula ... como la filmacion va de mal en peor un inescrupuloso productor decidira convertir la jungla en un gran hibrido de

BIG BROTHER y SURVIVOR
y guiados por el director seran abandonados a su suerte con la unica info de que estaran siendo filmados 24/7 y el unico medio de escape es localizar el helicoptero .
Lo que desconoceran es que en esa zona si se desarrolla una verdadera guerra pero a causa de la produccion de drogas
y una vez que los improvisados soldados se percaten de su error sera demasiado tarde ...

muy tarde ..
La peli en si NO entretiene
de la manera que yo hubiera esperado ya que el humor fisico es practicamente inexistente y roza lo escatologico,
para no destruirla directamente puedo decir que la musica se remonto a la que se utilizaba en las producciones de ese genero
( lease Creedence Clear Water Revival y el ultraclasico de The Rolling Stones " Simpathy for the Devil" )
y para los que tenemos algo de imaginacion existe una tortura acuatica a lo Wild Boys de DURAN DURAN,
un toque de

" TRAS LA ESMERALDA PERDIDA "
y hasta una alusion a Ulises y el canto de las sirenas representadas en la figura de la droga.
Las actuaciones no estuvieron mal

( Dudo haber visto algun mal trabajo de Downey Jr en mi vida!!! )

pero se peco en un humor simplista cargado de un vocabulario chabacano y soez con bromas de dudoso gusto.

Las caracterizaciones fueron importantes .. en especial las de Downey y Nick Nolte .. los demas hicieron de sus personajes habituales

y deberia hacer un parrafo aparte para lo que fue

la interpretacion de Cruise

... tal vez se esmero en realizar un buen trabajo y los de make up tambien pero ...

su personaje se sintio tan agradable como tocar una serpiente o pisar una cucaracha DESCALZO.
Y ahora viene el palo ....

( Que??? Pensaron que lo anterior lo era?? )

lei hace un par de semanas que las asociaciones relacionadas a chicos con algun retraso madurativo y Sindrome de Down estaban que trinaban con esta peli debido al trato y manipulacion que se hace de una enfermedad

....

al principio pense que podian exagerar

( Como cuando otras entidades se manifestaron en contra de

" BASIC INSTINCTS "

) o que como ya es costumbre la frase" un buen escandalo vende" tal vez se creo algo de controversia

desde el mismo estudio

para alimentar la taquilla ..
Pero nah .. LA PELI ES UNA MIERDA ...

Ben Stiller deberia aprender un poco de Adam Sandler

que si bien hace un humor similar ( grotesco y simplon ) se las ingenia para enmendar sus errores ( el tambien fue blanco de criticas en la peli

" ANGER MANAGEMENT"

) ,

con mejores lineas logra arrancar sonrisas

y en general elige a buenas partners

( Para prueba recordar la excelente quimica entre el y Drew Barrymore en films como

" 50 FIRST DATES "

o

" THE WEDDING SINGER "
) ya que
TROPIC THUNDER
es un insulto de principio a fin, para darle algo de credito se me ocurrio echarle la culpa al director .. el unico problema es que cuando lo busco veo que ..
ES BEN STILLER!!!
PD:
Ya esta bueno ver a la esposa de
Stiller
en TODASSS sus pelis no seria bueno romper ya con esa " tradicion"
o es que la pobre es la nueva Katie Holmes .. si no esta con el marido no la reconoce ni Dios ??
MI CALIFICACION : 3 estrellitas * * * ( Por algunas actuaciones .. obviamente ya se imaginaran de quienes.. el resto pateticos )