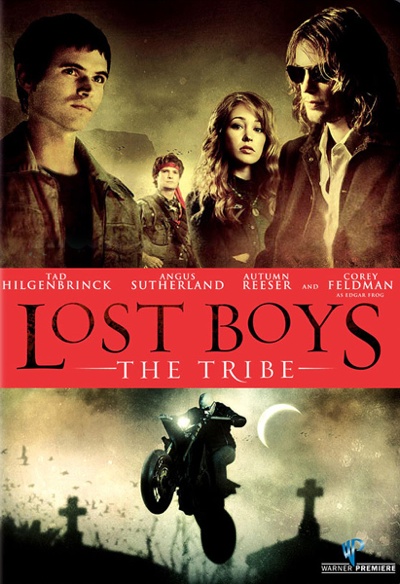 Con

THE LOST BOYS: THE TRIBE

tengo un problema existencial ... es una secuela ..
pero NO cualquier secuela tipo

JASON

que ya va por edicion numero vigesimo tercera o como

ALIEN

quien ya lleva 2 pelis agarrandose de las mechas con el bicho de

DEPREDADOR

.. o

NIGHTMARE ON THE ELM STREET

que ya en la segunda consagro a Freddy Krueguer como el heroe y a partir de ahi uno quiere que mate mas teens aun ...




No mis pollos ..

esta vez la maquina Hollywoodense de picar clasicos se metio con una peli bastion del genero " terror para adolescentes " de los '80 ...

THE LOST BOYS

....

y en una epoca en donde era mas facil ver a un ovni arriba de tu casa que una pechuga en la tele ...

( quien no recordara a Jose de Zer gritanto CHANGOOOO en la inmensidad del cerro Uritorco y hoy para la pechuga basta con poner a la mierdxx de Tinelli )

esta peli hizo historia ..



THE LOST BOYS
fue para la juventud de los 80's lo que - con todo respeto - pelis como

Carrie, Aullidos, El exorcista

y otras fueron en los 70' s ..
con la diferencia que esta peli se presentaba sin tannnta violencia ni malignidad ya que recordemos

era para un publico ADOLESCENTE y encima con papa Reegan detras ..
por lo cual los estudios tenian que hacer todooo soft, no fuera a ser que alguien de arriba se ofendiera ... era una epoca donde lo mas violento era ver a Diana almorzando un cobayo

o a Mister T persiguiendo a Murdok para caer rendido por accion de un somnifero

..

como podia ser que en Brigada A nunca muriera nadie ???

Bueno siiii estiro la pata el que hacia del General cuando hubo que despedir al actor ... y fue re de onda ya que salvaba a su hija.
Pero volviendo a

THE LOST BOYS

si bien no era algo " supremo" se convirtio en algo casi de culto .. .

porque era un mix de

THE GOONIES y DRACULA

con Frank Langella o sea .. tenia sus momentos comicos, otros de terror ... mucho colmillito pero guarda .. tambien sensualidad ..
y en esa epoca de lo prohibido.

Pero como ya mencione alguien quiso seguir robando ... estee perdon " hacer un homenaje"
y como frutilla del postre creyeron que llamando al medio hermano pichon de actor de

Kieffer Sutherland

(Angus) la iban a hacer redonda ...

sorry .. les salio tan redonda como una luna en cuarto menguante.
O sea " la base esta" como diria el Bambino
pero la peli NOOO
: en un minuto y medio (Contados)
se escuchan mas puteadas que en la Rosada cuando Kircher se entero que se agruparon las 4 asociaciones agrarias para cagarlxx
,
la presencia de un ultraenvejecido

Corey Feldman

como el reverendo

Edgard Frog

actuando a lo

Rambo

pasado de Maria con un balbucear beodo y sus cocteles mañaneros de ajo y huevo o sus boleadoras de dicho vegetal
mas que agregarle emotividad vuelve a la peli aun mas ridicula que bizarra .. o sea no se sabe si es de terror o comica ...
los momentos hilarantes escasean y la frase mas memorable es
"Como voy a beber sangre .... es horrible si yo soy vegetariana!!"
MI CALIFICACION 3 estrellitas * * *
( Y soy ultraaagenerosa .. ahh aguantense los titulos
HASTA EL FINAL ...
siiii ya se que es peor que un discurso de Kris pero es lo unico llamativo de este bodrio!!!)