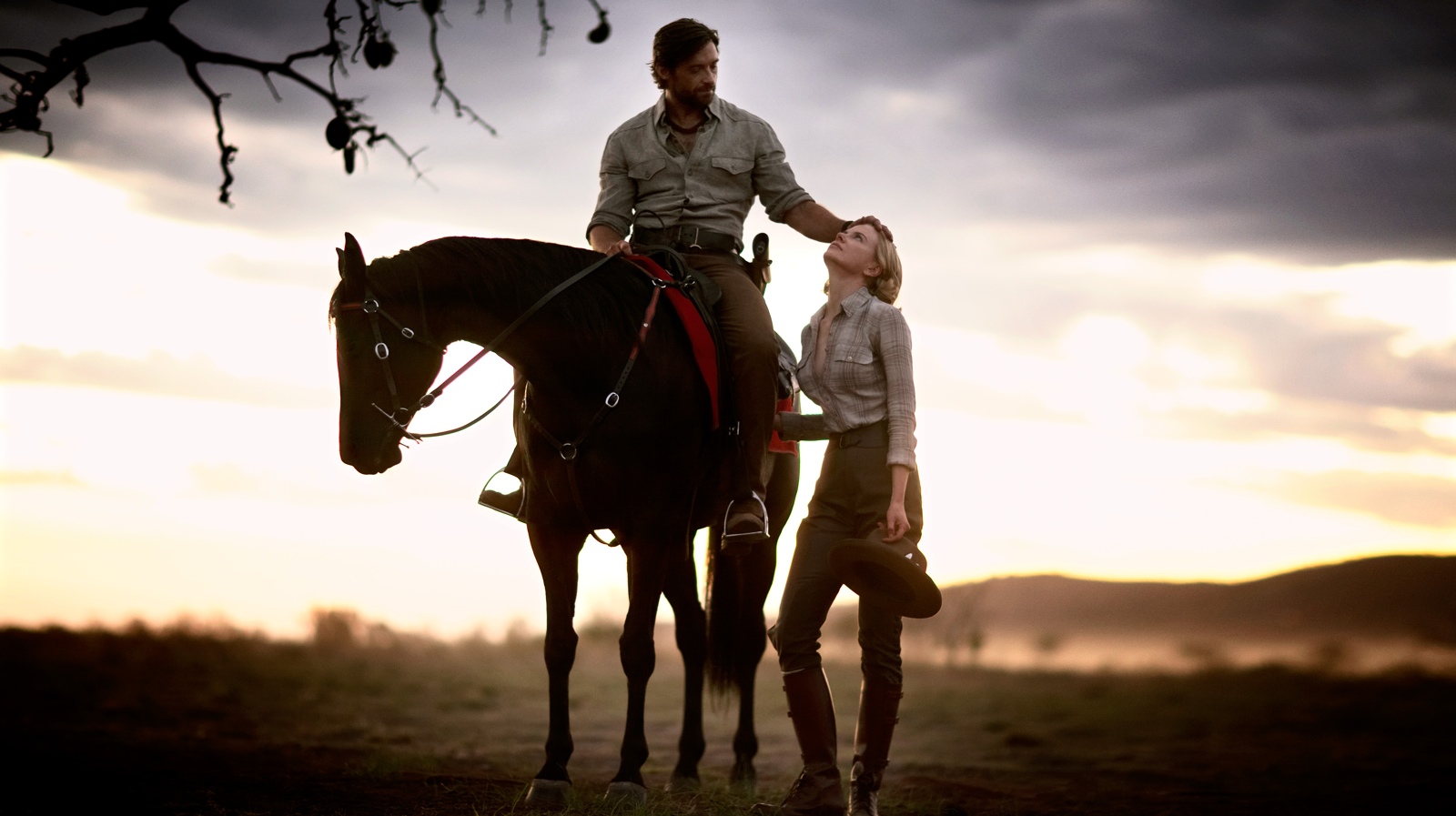 "AUSTRALIA"

es una peli con un despliegue parafernálico a nivel escénico y de publicidad por donde se la mire, está muy bien hecha, actores de peso, paisajes de puta madre, una buena historia pero ...

por que carajo sentí que hubo algo que la hizo CAER???
De entrada se manda con una estética muy propia de la época

y con una intro algo confusa nos pone frente a nuestros ojitos la historia de

una elitista mujer británica

cuya vida transcurre entre la equitación y ropa de lujo

que decide ir a romperle la cara a su marido quien vive en Australia

"cuidando " el negocio familiar ... la cría de ganado.
Pero tras un accidentado arribo es llevada por un particular guía a su estancia para encontrarse con la noticia que debe vestir de negro y más que libre como un pájaro está sola en la loma del carajo sin saber nada de nada

y lo peor ... con un administrador de dudosos escrúpulos y sin nadie en quien confiar

.

Ante semejante panorama y viendo que se le viene la noche deberá decidir si hace las valijas ( o lo que queda de ellas ) y se vuelve a Inglaterra a seguir con su dolce vita mandando todo al carajo o si madura de golpe e intenta tomar las riendas de su herencia

poniendo en riesgo su propia vida y confiando en su corazón.
La peli en sí entretiene y con ritmos y un estilo a

"GONE WITH THE WIND" ( Lo que el viento se llevó )

intentan hacer una obra maestra con romance aventuras, paisajes y todos los chirimbolos como rezaba en

Chico Carlo

, propios de una producción majestuosa

pero ... por que me aburri????
No se que pasó pero la presencia del borreguito se me hizo tediosa rozando la palabra " odiosa", hubo cosas como lo del

ojo de Hugh Jackman ( PAPIIIII!!!!! ) onda caricaturesco

pero ... que no me cerraron mucho porque al fin y al cabo ahí no era Wolverine ... Lo mejor sin duda fueron esos

toques de Western spaguetti y ese aire a Clint Eastwood y que pudimos disfrutar de lo mejor de Jackman .. EL MISMO!!!!

Acerca de

Kidman

la sentí algo forzada, a lo

"MOULIN ROUGE"

Baz Luhrmann de nuevo la hizo cantar y todos los personajes corrieron con una suerte de caracterización obvia que tal vez le restó puntos.
Si la quieren ver la recomiendo pero no esperen "LA" película

, está muy bien hecha pero le faltó eso especial que hace que

uno a un film " lo sienta"

, tuvo toques de humor, de drama, de romance, de sexo, de western, de aventura, hasta se llegó a remarcar el tema de la discriminación y el problema étnico de Australia ..

. o sea un poco de TODO con lo que sentí que finalmente NO SE LLEGÓ A NADA

..
PD:

Admírese el photoshop en la fotito de Wolverine .. pero a quien carajo le importa!!!! XDDD
MI CALIFICACION: 8 estrellitas * * * * * * * * ( Y estoy

regalando UNA

porque esperaba de esta peli MUCHO MAS )