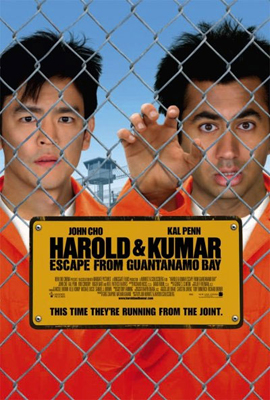 Hoy voy a ver si cubro algunas pelis que tengo atrasadas y comenzare por algo de lo peorcito que he visto .. HAROLD AND KUMAR ... me vi sus 2 pelis ..
HAROLD AND KUMAR GO TO WHITECASTLE y HAROLD AND KUMAR ESCAPE FROM GUANTAMO BAY
y que puedo decir ...
BASURAAAA
Sinceramente no entiendo como algo asi puede ser " de culto" porque no son comedia... no tienen buenos guiones... las actuaciones son pateticas .. y ni que hablar del mensaje ..

voy por partes :
Harold and Kumar go to Whitecastle

: es la historia de 2 universitarios quienes intentan cubrir su ansiedad ( cuando no estan fumando maria ) con

la busqueda de un local de comidas rapidas llamado White Castle

,

como la sucursal que buscaban cerro estos 2 drogatas buscaran por donde sea otra sucursal y en el camino les ocurrirá de todo ...
Harold and Kumar Escape from Guantanamo Bay

: luego de finalizada la busqueda de White Castle Harold se encontrara que la chica de sus sueños ( la vecinita latina ) se esta yendo a Europa .. asi que presionado por Kumar la seguira.

En el aeropuerto se cruzaran con la ex novia de Kumar ... otra ex universitaria y ex drogata que ahora es una blanca paloma y esta pronta a casarse con un joven politico de prestigio y conocido de Harold...
A pesar de los celos Kumar decide irse a Europa con Harold pero el vuelo se complica cuando su

aficion a la marihuana hace que se los confunda con terroristas y acaben detenidos en la prision de Guantanamo

a partir de alli se meteran en muchisimos lios para evitar ser condenados por algo que no hicieron

ya que se los juzgo desde un principio por PORTACION DE CARA

( las escena del interrogatorio asus padres es " unica " ) y el destino los guiara a toparse por accidente con una cara familiar de la peli

White Castle

y a buscar apoyo en el actual novio de la ex de Kumar.


Las pelis en si son una perdida de tiempo
... la uno ni siquiera se merece el visto de " mala" porque es ridicula ...
la 2 sigue en la misma linea pero deja en el aire la idea de que sin importar si sos inocente o no el color de tu piel ya te otorgo una sentencia ... les suena la palabra INADI ... ????
MI CALIFICACION .. para la 1 2 estrellitas ..

MI CALIFICACION para la 2: 3 estrellita * (

Por la presencia de Beverly D Angelo y la idea de la discriminacion

)

Serán de culto pero ME ABURRIERON